Build a Custom Bowfishing Arrow in 5 Simple Steps
How to Build a Custom Bowfishing Arrow
There's nothing better than hitting the waters with new bowfishing gear.
In an effort to add a bit of customization to your bowfishing setup – we've built the Custom Arrow Builder.
Our custom arrow builder allows you to customize a bowfishing arrow to match your bowfishing rig and gear.
You get to choose your preferred arrow shaft and color, bowfishing point, arrow slide/stop, as well as your nock color.
Our custom arrow builder makes it a simple and easy process.
How exactly does it work?
We'll show you how to build a custom bowfishing arrow in 5 simple steps!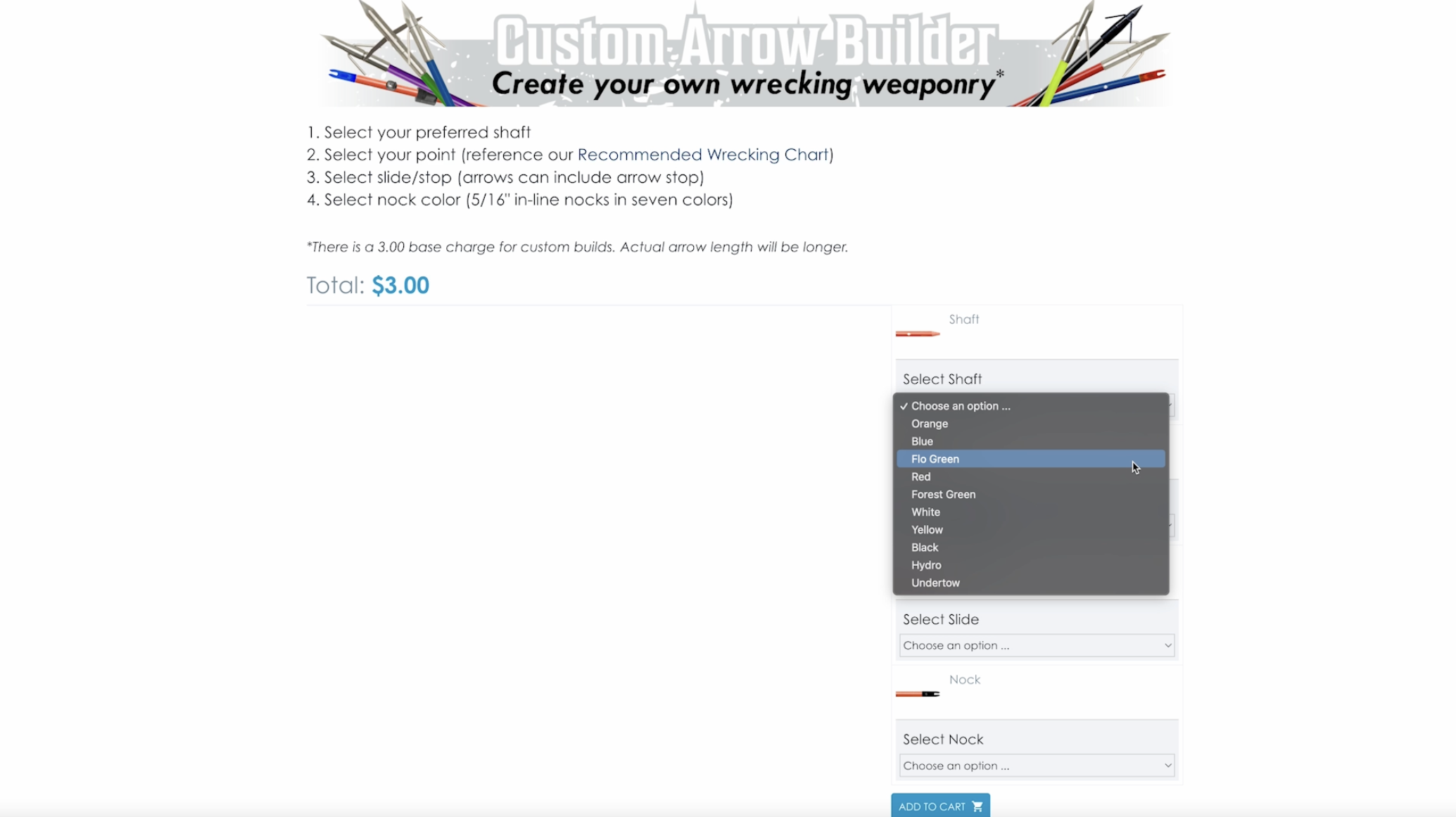 Step 1. Select Your Preferred Shaft
We allow you to choose from a variety of durable fiberglass shafts in a variety of colors.
You can choose from Orange, Blue, Flo Green, Red, Forest Green, White, Yellow, Black.
Or, you could choose one of our Hydro-Carbon or Undertow arrow shafts.
Our Hydro-Carbon IL bowfishing arrow shaft provides big game results thanks to fiberglass carbon inlaid spines and increased straightness and stiffness over standard fiberglass arrows.
Our Undertow Series of bowfishing arrow shafts are ready and willing to take the biggest game you can imagine. Every shaft is constructed of a premium carbon shaft with a solid fiberglass core and must pass a QC straightness inspection prior to assembly—ensuring unsurpassed accuracy.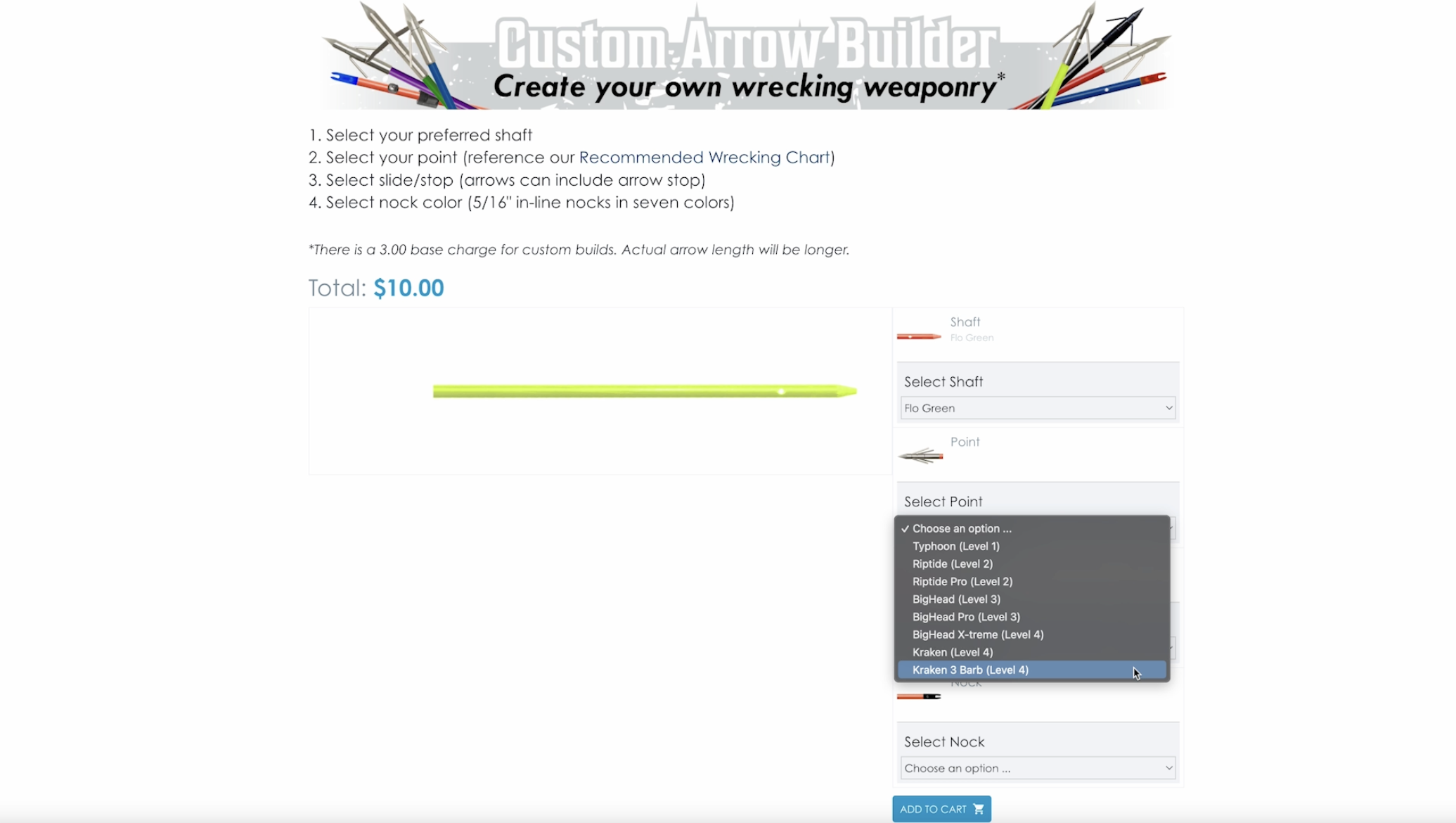 Once you've chosen your shaft – make sure you choose which bowfishing point you'll want.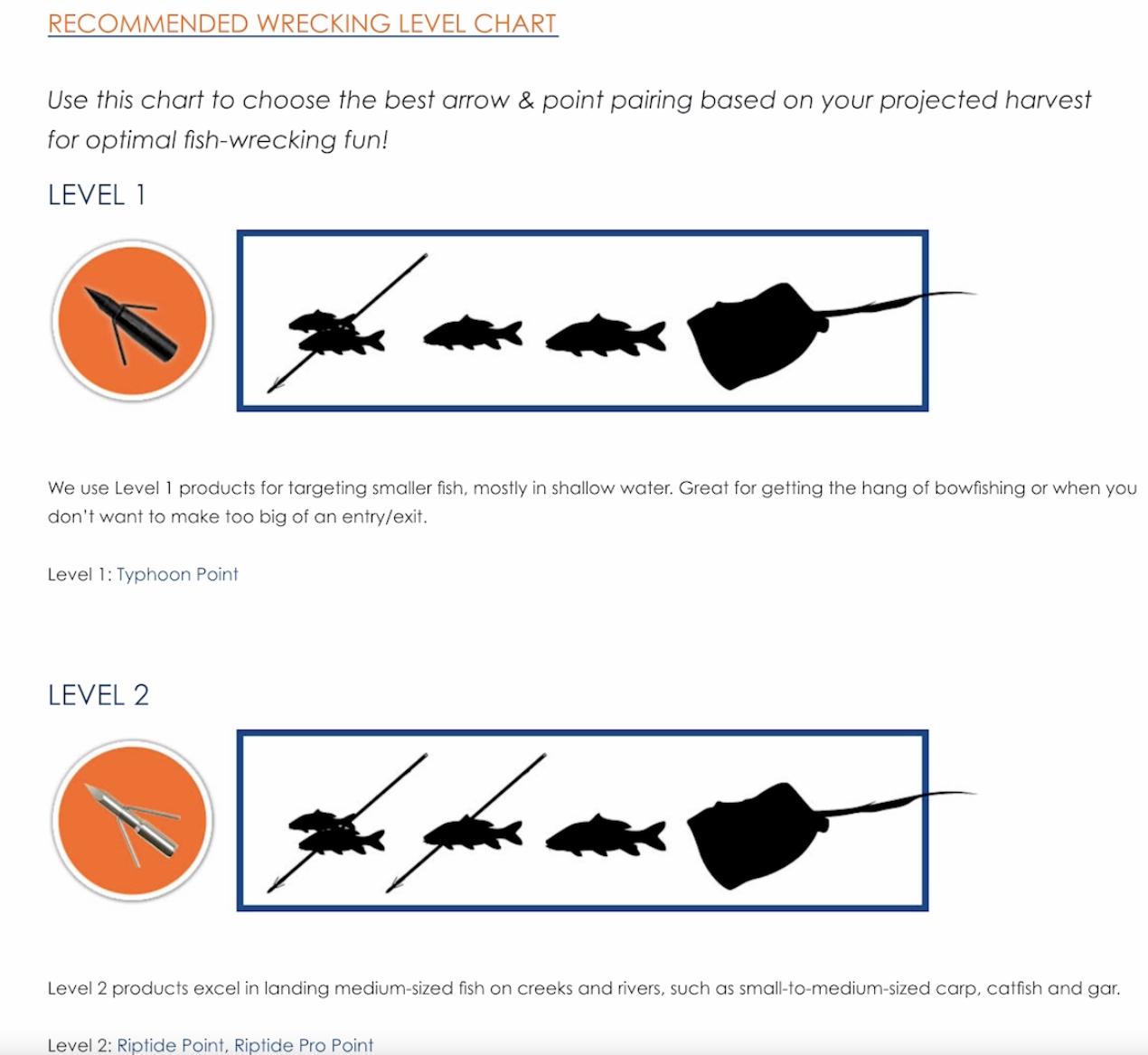 To make sure you have the correct bowfishing point – you can check out our Recommended Wrecking Chart to see which point is best for your targeted aquatic species.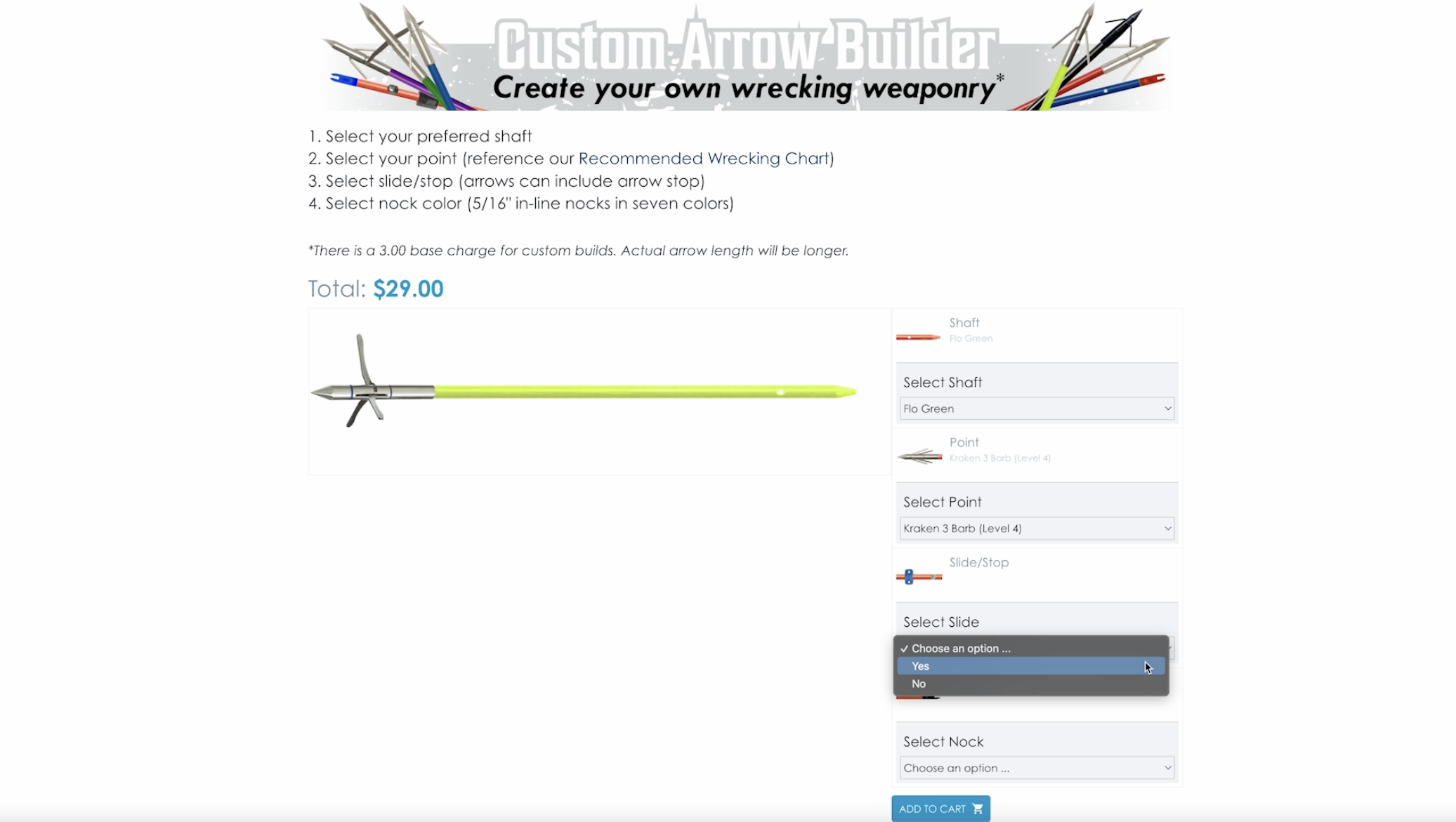 Step 3. Select Slide/Stop (Arrows Can Include Arrow Stop)
Once you've selected your arrow shaft and bowfishing point – you'll get to decide whether you want to have an arrow slide/stop added to your custom arrow.
If you don't want one added to your custom bowfishing arrow you can simply choose no and no arrow slide and slide stop will be added to your custom bowfishing arrow.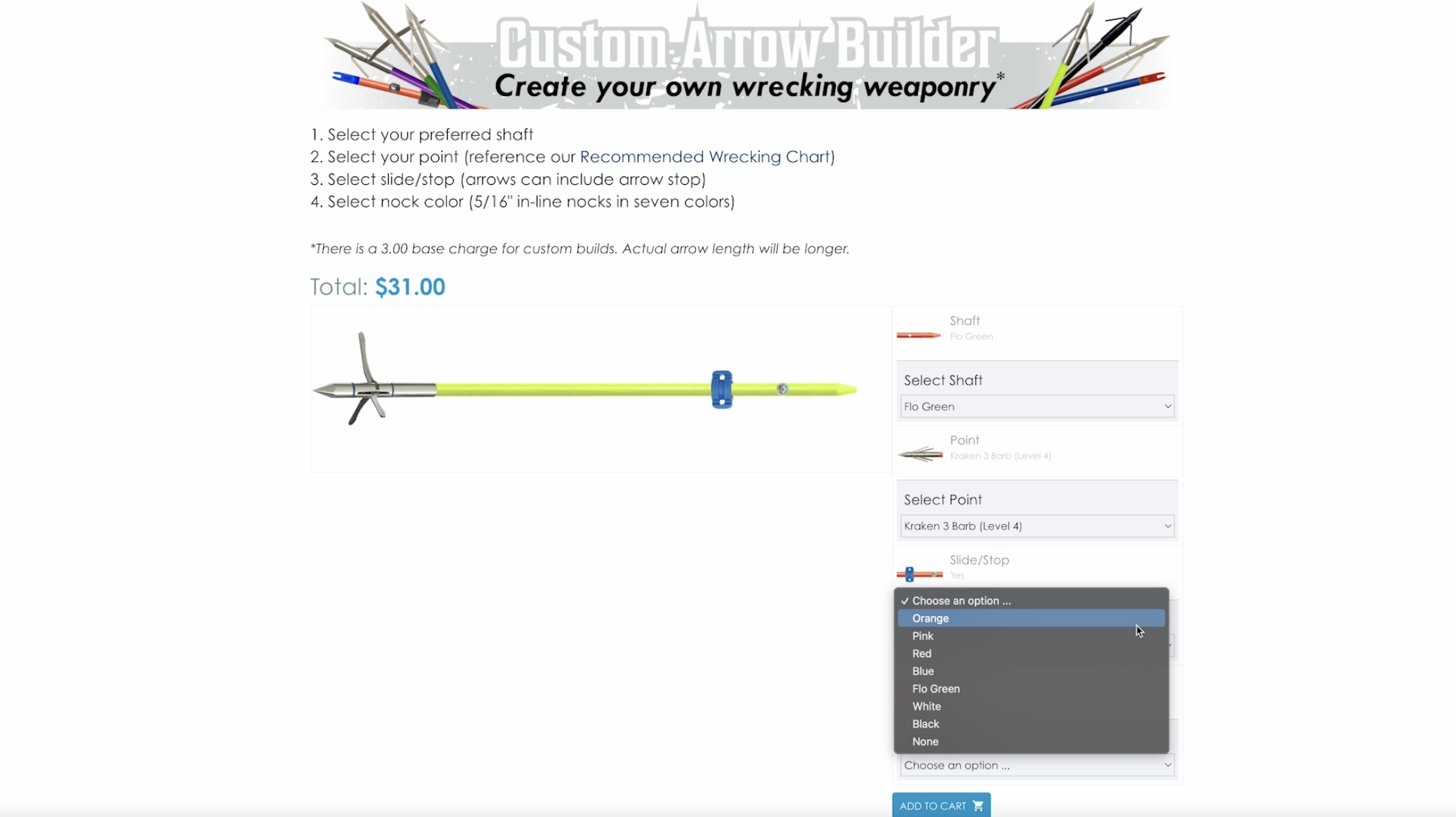 Step 4. Select Nock Color (5/16″ In-Line Nocks In Seven Colors)
Finally, once you've selected the shaft, bowfishing point, arrow slide/stop – you get to choose your 5/16″ nock option.
You can choose from 7 nock colors which include orange, pink, red, blue, flo green, white, and black.
If you have your own custom nock you'd like to install yourself – you can simply choose the "none" option to not have a nock installed.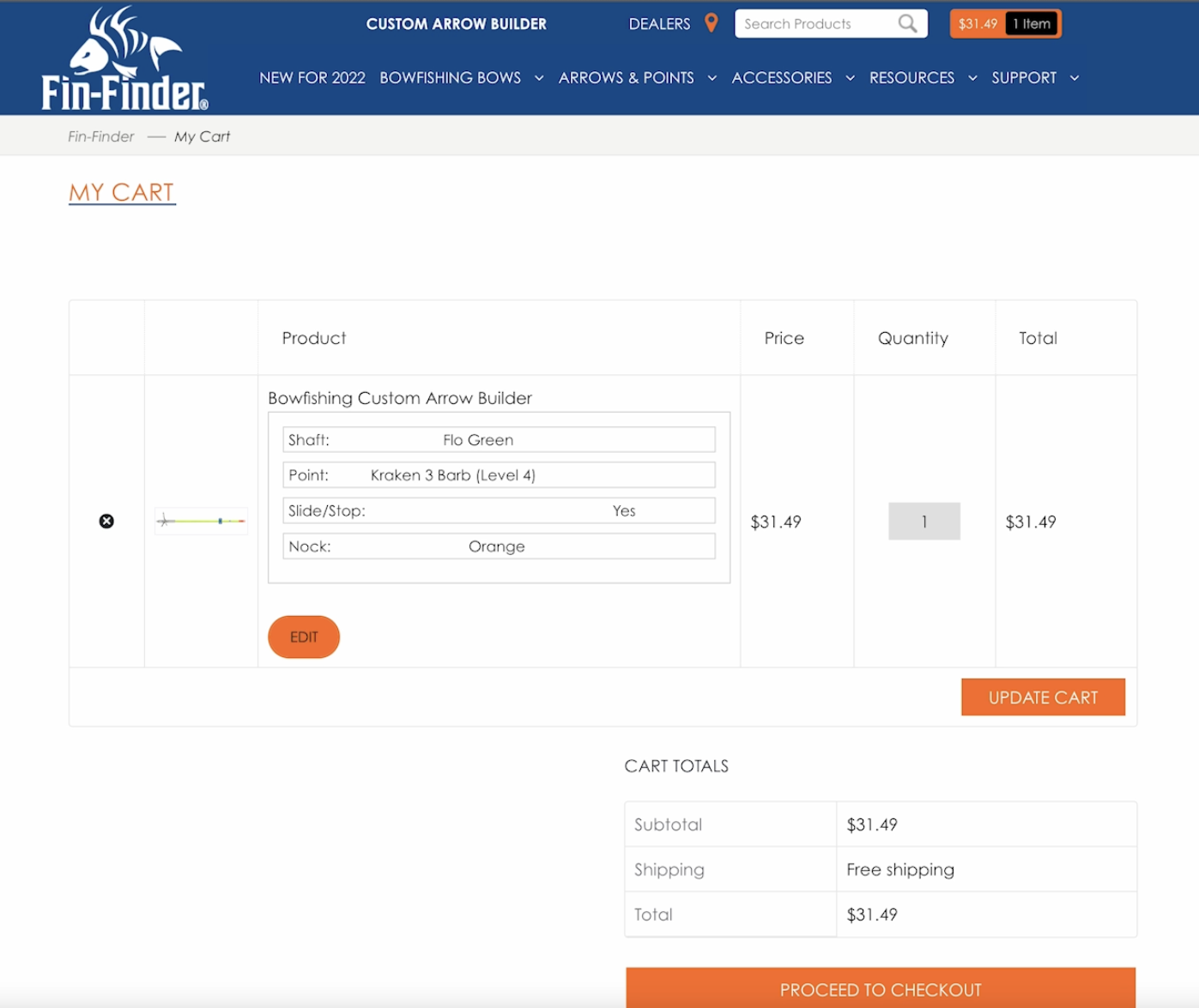 Step 5. Add to Cart and Check Out
Once you've got your custom arrow built – simply add it to your cart and checkout.
After you've checked out, a member of our team will begin to assemble the custom arrow based on your design specifications.
Building your own custom bowfishing arrow is that simple!
Want to build your own custom bowfishing arrow?
Check out our Custom Arrow Builder here to build your very own custom arrow today!
Fin-Finder's Custom Bowfishing Arrow Builder
For more bowfishing articles about equipment, tips, and tactics – make sure to check out our Fin-Finder bowfishing blog.
Also, make sure to connect with us on Facebook, Instagram, and YouTube for Fin-Finder product announcements, bowfishing content, contests, and giveaways!