Bowfishing Bows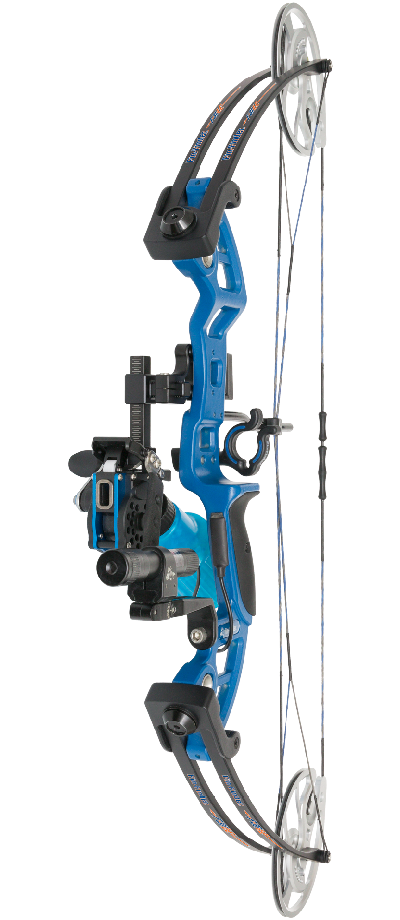 RefractR BLS/Winch Pro Reel Package
We've made it easy to get rigged and ready-to-shoot! Our F-31 LE RefractR BLS/Winch Pro Package has what you need to get wreckin'! Featuring the F-31 LE Compound Bow, RefractR BLS, Winch Pro Bowfishing Reel, and essential accessories.
View Details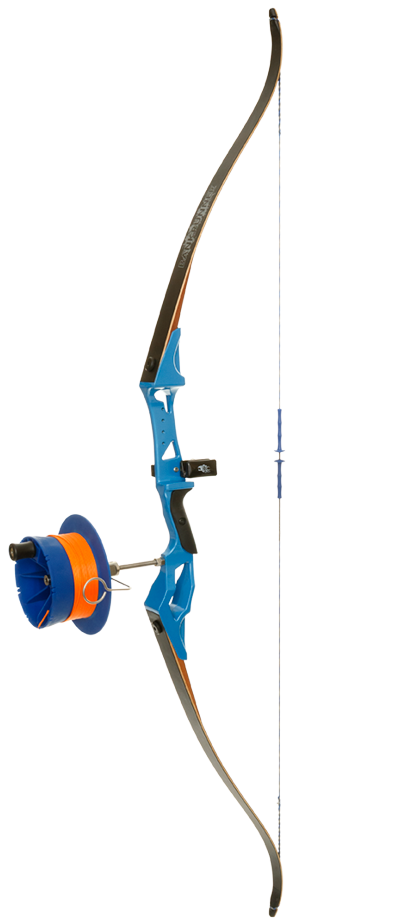 SideWinder Reel Package
Ready-to-shoot BankRunner SideWinder Reel Package, equipped with reel and accessories.
BankRunner Recurve
SideWinder™ Bowfishing Reel
Current™ Bowfishing Arrow Rest
Hydro-Shot Finger Savers
View Details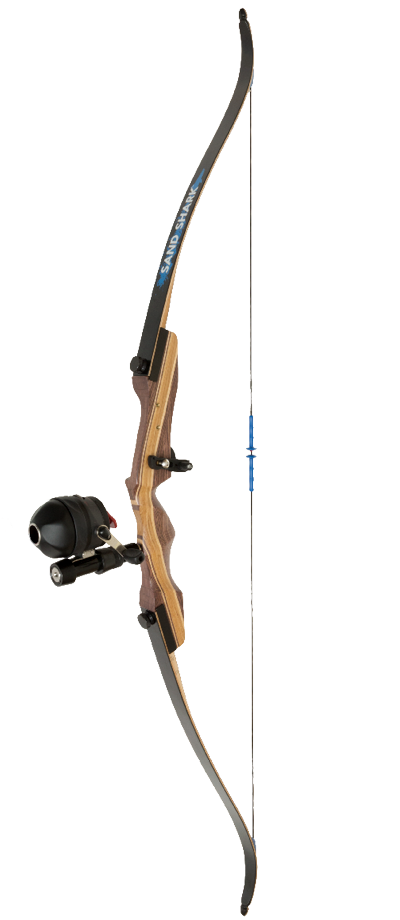 Spin Doctor Reel Package (LH)
Looking for a left-handed wrecking option? Increase your fish-retrieving success rate with this package featuring the Spin Doctor™ Bowfishing Reel.
Spin Doctor™ Bowfishing Reel
35# Draw Weight
LH Only
View Details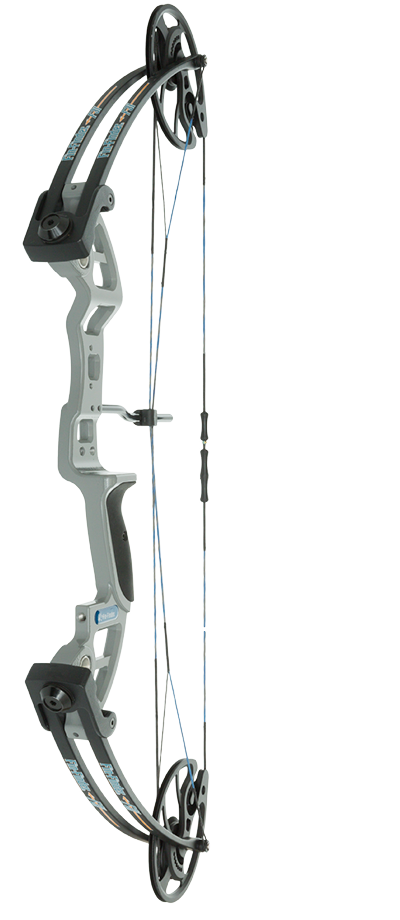 Fuel Your Bowfishing Trips
Suitable for archers of all sizes with a 31″ draw and zero let-off cams. The 30″ axle-to-axle platform, 8″ brace height, and 25–40 lb. adjustable limbs provide a clean release even when snap shooting at odd angles and quick-draw scenarios. Get wreckin' with the F-31.
High-quality Gordon Glass limbs
Corrosion-resistant Stainless Steel hardware
Anti-slip grip
31″ draw length with zero let-off cams
25–40 lb. adjustable limbs (max 7 turns)
Deep-well cam grooves keep the string from derailing
Finger savers included
Bow weighs 4 lbs.
View Details
Bowfishing Accessories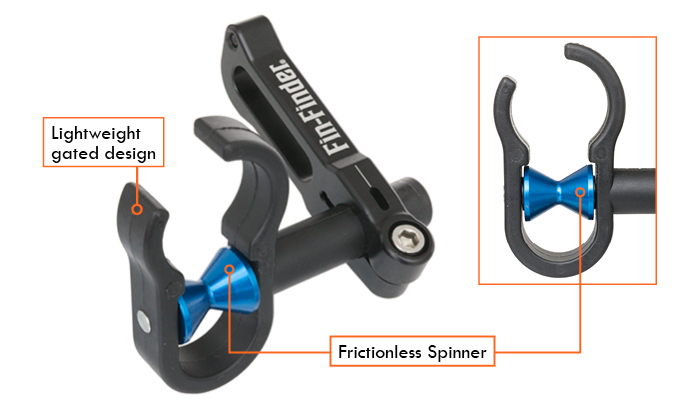 Bowfishing Arrow Rest
Lightweight gated design
Glass-filled Nylon and 6061-T6 Aluminum roller and mount
Frictionless spinner
RH/LH Compatible
View Details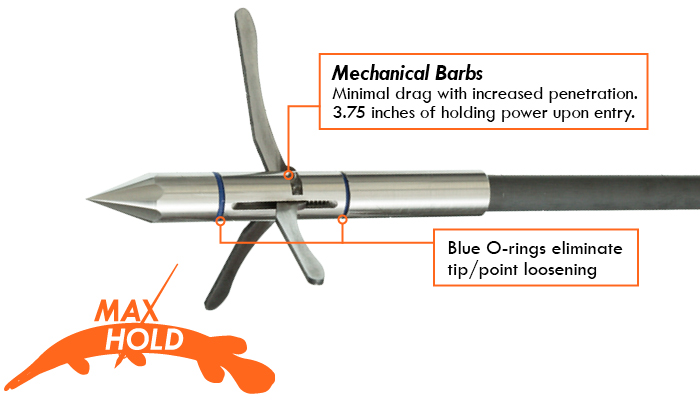 3 Barb Bowfishing Point
Mechanical barbs minimize drag and increase penetration
Barbs deploy upon strike
3.75″ barbs ensure ultimate holding power
3 barb ferrule release
Blue O-rings eliminate tip/point loosening
Stainless steel construction
View Details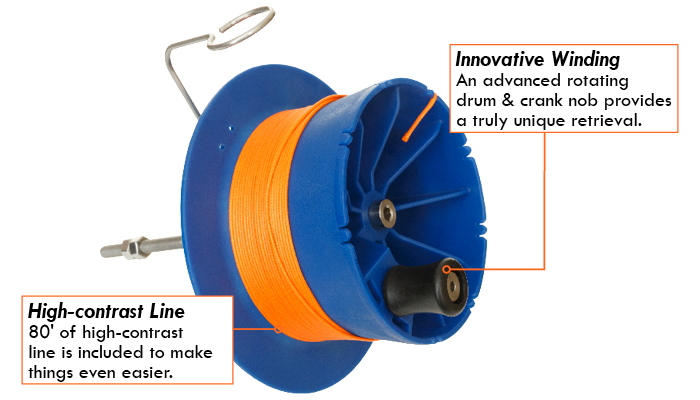 Bowfishing Reel
One-of-a-kind retrieval system
Corrosion-resistant Stainless Steel & nylon construction
Adjustable, ambidextrous design
Mounts to any 5/16-24″ bushing
High-contrast orange line included
Universal RH/LH
View Details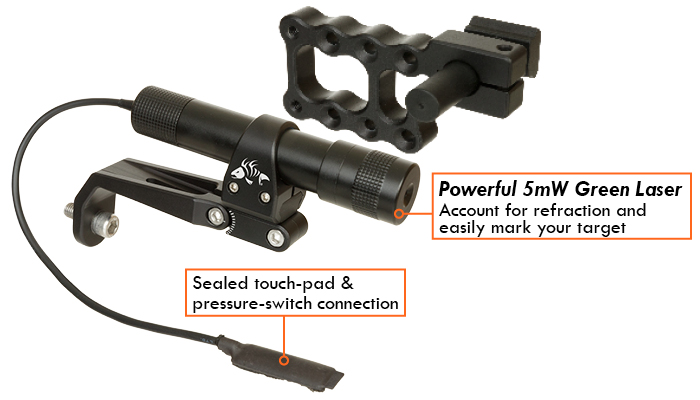 Bowfishing Laser Sight
Sight & stabilizer mounts included
Waterproof 5mW green laser with
pressure switch activation
Aluminum construction
Stainless steel hardware
CR123A 3V battery included
Patented technology (#8,464,700)
View Details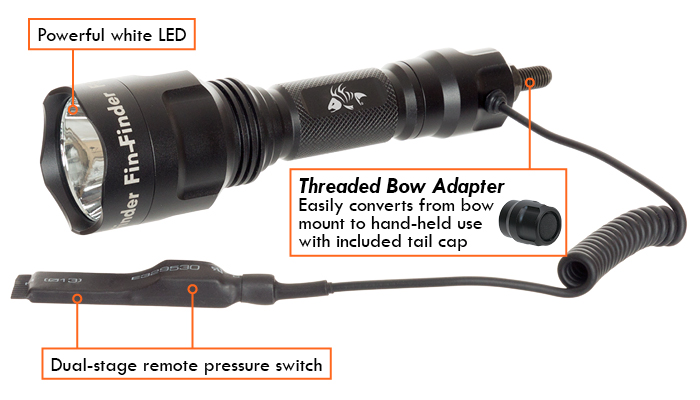 Bowfishing Light System
Powerful 600 lumens
Includes light, rechargeable battery and charger
AC and DC adapters
Remote pressure switch
Threaded bow adapter cap and end cap switch
View Details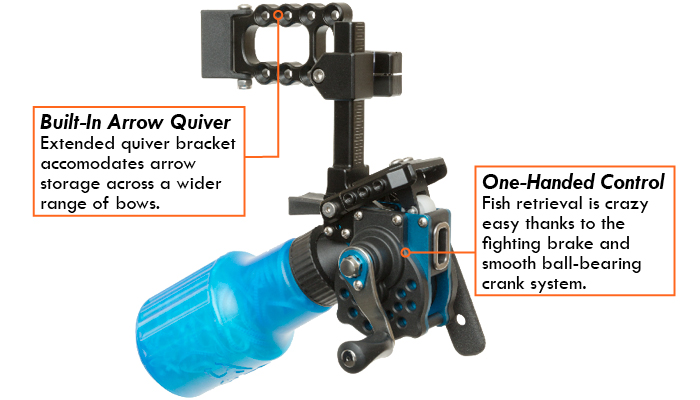 Bowfishing Reel
4:1 gear ratio for fast retrieval
Built-in arrow quiver — universal fit
100% aluminum adjustable mounting bracket
Anti-reverse bearings
25 yards of 250# braided line
RH only
View Details