Top 6 Features of the F-31 Compound Bowfishing Bow

What Makes the F-31 the Best Bowfishing Bow
Summer fun to most folks includes cold drinks, hot beaches, backyard BBQs and baseball games.
The days run longer into nights where memories are made over those few months to be visited all year long.
Most archers spend time in their yard, and on the 3D course, over those hot days thinking about cold hunts in the woods.
Honing their skill with hundreds of arrows to razor-sharp surgical perfection for that one moment when they're at full draw ready to fill that year's tag.
In that time between hunting seasons, some archers find it hard to scratch that itch of pursuit.
Bowfishing has become a popular summer activity for archers and it's easily understood why.
It's another great reason to enjoy the outdoors in great weather while doing what hunters and archers love to do.
Most archers with water close to where they live can spend time chasing fish like the invasive species of carp and the native catfish.
For these pursuits, whether they are planned or grab-and-go style, you'll want to be ready with a reliable and versatile setup.
The F-31 compound bowfishing bow is your answer to your bowfishing needs from the Chesapeake Bay to the creeks back home.
Top 6 Features of the F-31 Compound Bowfishing Bow
1. Constructed of High-Quality Materials
The F-31 is constructed of high-quality materials that'll have you ready to wreck!
The bow features high-quality Gordon Glass limbs & Corrosion-resistant Stainless-Steel hardware.
The high-quality materials that comprise this bow will give you confidence and peace of mind when you hit the waters.
2. Great Shootability
Zero let-off cams out to a draw length of 31" allow the ability for you to shoot in those classic quick draw situations when that split-second window of opportunity presents itself.
The quick draw feature is similar to a recurve style fishing bow, but the F-31 adds more bang for your buck with adjustable Gordon Glass limbs from 25-40lbs.
Like a good truck, you know you'll be ready for anything with a bow that adjusts well to both beginners and experts alike.
3. Adjustability
For young archers, the F-31's adjustability can allow them to keep the same bow as they grow.
This gives you the most value for your money knowing they'll have their bowfishing set up for years to come.
Also, if you have a friend that needs a bow in a pinch, keep an extra bow on hand and adjust to their desired pull weight.
Fitting most archers' sizes and abilities the versatility that comes with the F-31 is tough to beat.
4. Reliability
If you've bow fished in the past and are worried about what happens to your bow when the action gets going, the F-31 has you covered.
With an anti-slip grip and stainless-steel corrosion-resistant hardware, the slime and grime won't be a problem when you're on the water.
5. Dependability
With all of the shooting you'll be doing, some bows can get overworked and have the string derail from the cam.
When that happens, unless you have a bow press on the water, your day is over.
That's not the case with the F-31!
The bow is designed with deep cam grooves enabling you to shoot at odd angles all day and night.
You can worry about whatever you want when you're out there, but the string coming out of your cams won't be one of those worries.
6. Lightweight
Finally, one of the best features of the F-31 is how lightweight it truly is.
The last thing you want to worry about is holding a heavy bow during your bowfishing outing.
Thankfully, those high-quality materials don't weigh the F-31 down as it weighs in at a mere 4lbs.
With a lightweight bowfishing bow like the F-31, you'll surely be able to enjoy an all-day or all-night bowfishing outing with ease!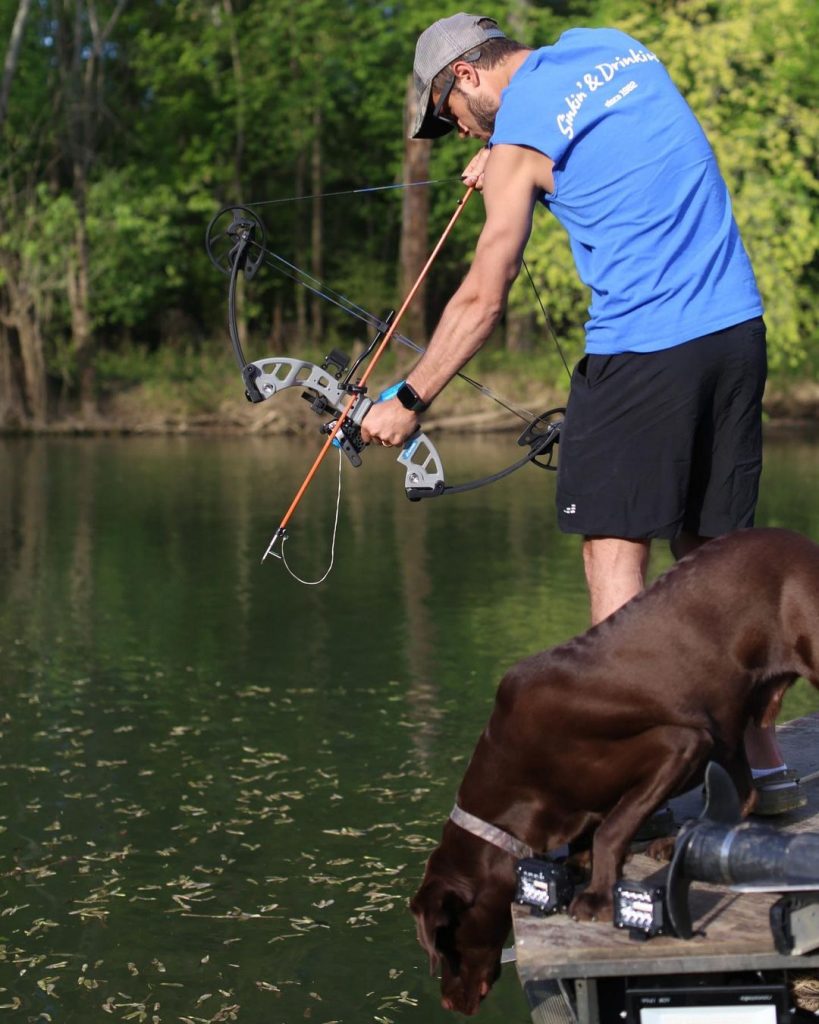 Time to Get Wreckin'
The weather is warming up and so is the fishing.
Whether you're looking at getting into a fast and fun-filled activity this year, or you're looking to upgrade your current bowfishing bow setup – the F-31 has everything you could want in a bowfishing bow and much more!
For more information on the F-31, or to purchase your very own F-31 Compound Bowfishing Bow – visit our website to check out the various F-31 bowfishing packages we have available.
Be sure to check out the rest of our website to explore all of the quality bowfishing gear and accessories we have to offer.
For more bowfishing articles about equipment, tips, and tactics – make sure to check out our Fin-Finder bowfishing blog.
Also, make sure to connect with us on Facebook, Instagram, and YouTube for Fin-Finder product announcements, bowfishing content, contests, and giveaways!