World Record Freshwater Drum Landed with Fin‑Finder Poseidon Bow and Undertow Arrow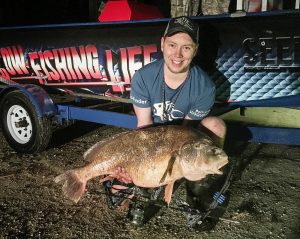 While bowfishing with his new Fin-Finder Poseidon Compound Bow and Undertow Arrow, Bowfishing Life Founder Mike Lentz of Rochester, Minnesota landed a 27.92-pound Freshwater Drum, setting a new Bowfishing Association of America (BAA) World Record. Lentz's harvest beat the previous World Record by almost a pound and topped the previous Minnesota State Record by more than 14 pounds.
"The Fin-Finder Poseidon blew my mind after shooting it! I never thought it would be so fun to snap shoot a compound bow. Once you pick up the Poseidon you can instantly feel how well made the bow is, it is extremely solid and well built. I was very impressed with the power the Poseidon punches on those deep shots and quick snap shots while still gaining great penetration."
Team Fin-Finder would like to congratulate Mike and are proud to have had Fin-Finder products help in bringing this one home!